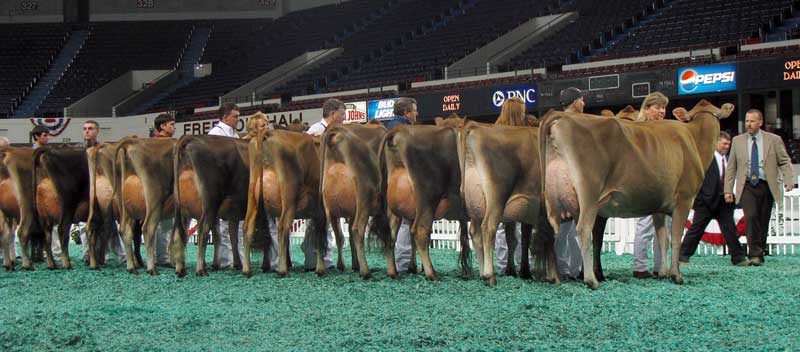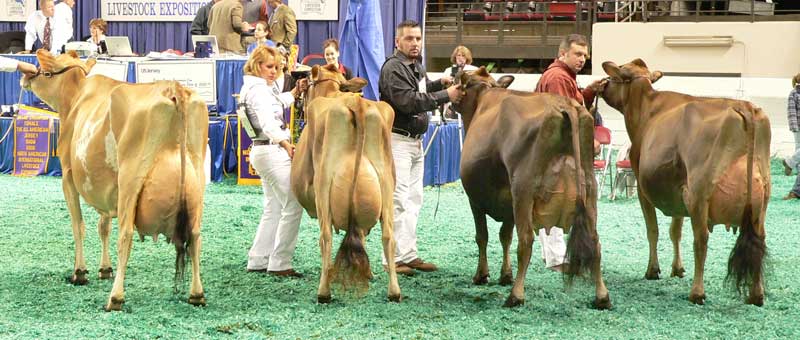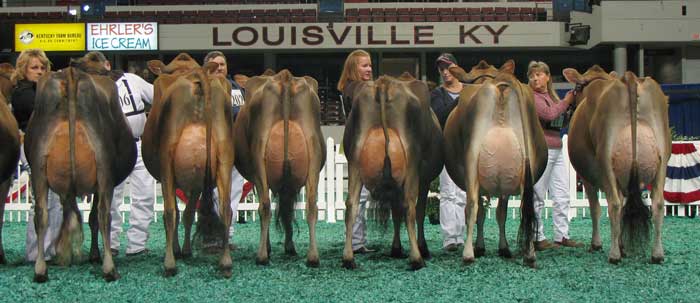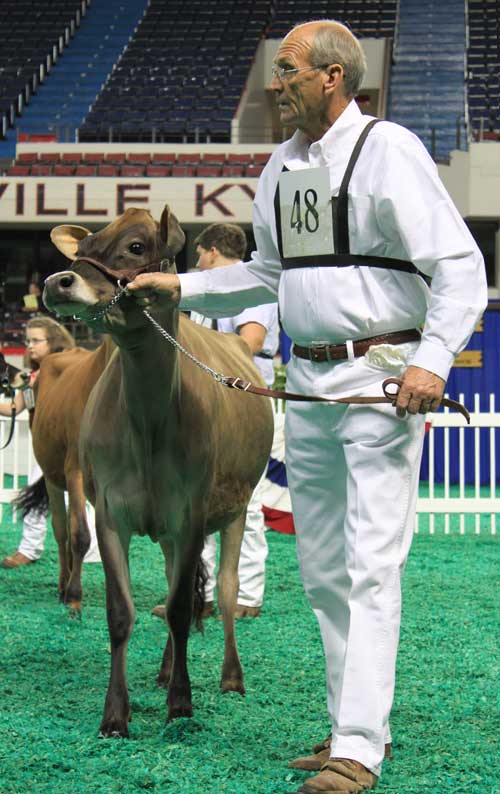 Rider Jersey Farm is located in Upton, Kentucky, about 50 miles south of Louisville. The farm is owned and operated by Mike and Ronnie Rider and has been in the family for nearly 75 years, having been established by the brothers' late father, Ernest Rider.
The Riders milk 50 cows and raise about 30 head of replacement heifers. The herd is enrolled on REAP and has continuously contributed to Project Equity since 2001.
The Riders focus on breeding top quality show cattle. Rider Jersey Farm is a routine exhibitor at the Kentucky National Show and the state fairs of Kentucky and Tennessee. Many times, Rider Jersey Farm has earned the prestigious Premier Breeder banner at the Kentucky and Tennessee State Fairs.
Showdown Justine
Excellent-93%
Owned by Vierra Dairy, Hilmar, California
We are very excited to see one of our very own homebred animals, Showdown Justine, Excellent-93%, has gone on to be named Reserve Grand Champion of the 2019 International Jersey Show! She adds these laurels to her resume along with her taking second-place Junior Two-Year-Old at the 2017 International Show, and a sixth-place Junior Two-Year-Old finish in the All American Open Jersey Show that same year. Her dam is another one of our homebreds, Kan Do Jane, an Excellent-90% daughter of WF Amedeo Kan Do.
In 2018, "Justine" was sold to Vierra Dairy of Hilmar, California. Today she is housed in North Lewisburg, Ohio, with the Triple T Holstein and Jersey herd. We are so happy to watch her doing so well for her current owners! For more information on Justine and our other notable champions, check out our All Americans page.