Excellent-92%
"Justine" was sold to Vierra Dairy Farms of Hilmar, California, in 2018. Backed by eight generations of Very Good or Excellent dams, she is a wonderful representation of our successful homebreeding.
In 2017, she was sold to Triple T Holsteins and Jerseys, owned in partnership with Rider Jerseys. That year she went on to place second in the Junior Two-Year-Old class at World Dairy Expo in Madison, Wis., and sixth in the same class at the All American Jersey Show in Louisville, Ky.
She was tapped first Four-Year-Old at the International Jersey Show in 2019, and was also the class's best uddered. She went on to be named Reserve Senior and Reserve Grand Champion. Earlier that year, she was scored Excellent-93%.
We look forward to seeing what her River Valley V I P-ET daughter grows into, also owned in partnership with Triple T.
"Justine" graces the cover of the 2019 November Jersey Journal with herdmate Bri-Lin Valson Spritz (right).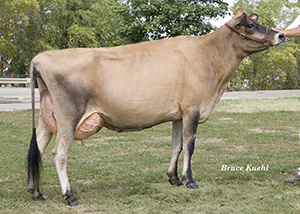 Kimbles Diamond, Very Good-89%
Granddam
1st Junior Three-Year-Old, Tennessee State Fair, 2008
2nd Junior Three-Year-Old, Kentucky State Fair, 2008
3rd Futurity, Kentucky State Fair, 2008